Henri and Tangachee Goebl
Sunshine Rock Farm, 201 Bulman Road, Salt Spring Island, B.C. Canada V8K 1X5
250-653-9573  thegoebls@gmail.com
Henri & Tangachee have been on Salt Spring Island for 38 years, 34 of which they have been Stewards of this land.
"We have created the gardens together through a combination of love, hard-work and perseverance. We have been blessed by an abundance of natural spring water. The rest speaks for itself…." Tangachee & Henri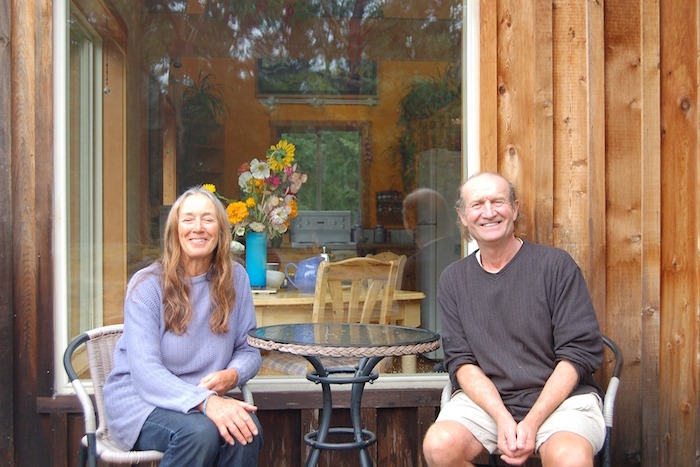 Henri has a vast knowledge of native trees & had worked in reforestation for 20+ years. He is known locally as an artist, using only objects from nature as his medium.
Tangachee had a home based business making preserves grown in her garden for many years. She was a favourite at the SSI market  where her organic jams and chutneys were legendary. Now she enjoys a quieter lifestyle but still continues to garden extensively. She supplies most of their own household vegetables and fruits and are happy to share these freely with their guests. Both Henri and Tangachee love hiking and their combined knowledge of local walks is extensive. They are always ready to share this knowledge with their guests.
If you would like to read more about your hosts & the magical land they live on, click on the Fall 2014 Issue of Aqua Magazine

Slide 1
Words can't describe our time here…But I'll try. We loved every aspect of the perfection of Dancing Light: the jam(yum!!), the deer(& the fawns), the beautiful flowers, the fresh veggies, the amazing view, the warm fire & the incredible feelings of peace & happiness that were present during every moment of our stay. Tangachee & Henri – we thoroughly appreciate your warmth, hospitality & kindness. Thank you for making such a beautiful place for our honeymoon, We hope to come back soon!" Zack & Elizabeth, North Carolina, U.S.A.
Slide 2
"What a wonderful find – this dancing light cottage & its owners. Complete with dancing rain & winds! Such attention to detail everywhere speaks of the mindfulness & presence of Henri & Tangachee. I loved the Mary Oliver book the calendula cream, the jam, so many things…what do they say – 'God is in the details' " Carole & Len, Alberta & soon to be Salt Spring.
Slide 3
"Dancing Light is the most amazing and beautiful cottage we've ever stayed in! The meditation room was a nice touch; I really felt that it was a special, spiritual place. I am definitely raving about the cottage to my friends at work and hopefully I will come back soon and spend more nights here! P.S. I loved the deer." Agasel and Toby, Vancouver, B.C.
Slide 4
"We had a perfect, romantic weekend at Dancing Light. So nice to be held in the energy of you both. Love to you, Tangachee and Henri. We hope to return."  Patricia & Mike, Victoria & San Francisco.
Slide 5
"An amazing magical and truly relaxing gataway shared with best friends. Many thanks to Henri for the perfect introduction to a peaceful weekend full of laughter, support and growth. From the secret garden tour, to the many deer and birds, delicious jams and granola, and personal SSI tours of the cheese factory and beautiful provincial parks, this weekend was even better than I imagined. I cannot wait to return! (Dancing Light Cottage reconfirmed the importance of taking time each day to realize how beautiful our surrounding world is) Thank you. Many thanks for your continuous kindness and generosity." Melissa…